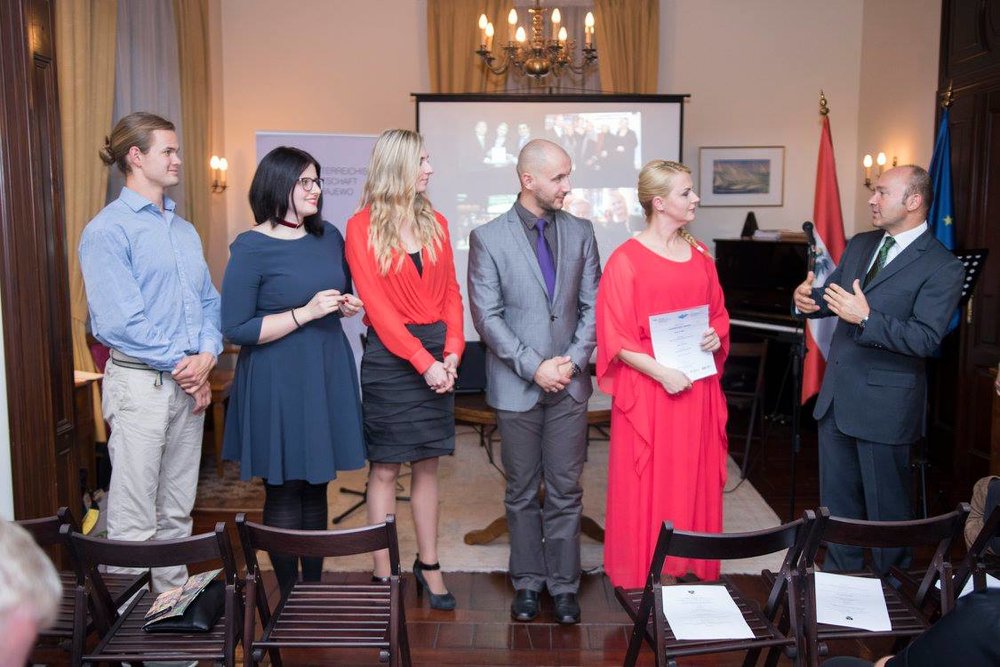 The Austrian Federal Ministry for Europe, Integration and Foreign Affairs awarded PCRC the prestigious Intercultural Achievement Recognition Award (IAA) for our pan-ethnic online multimedia outlet, Balkan Diskurs. The award is designed to recognize projects, in Austria and around the globe, that make use of opportunities within intercultural life, explore new avenues within intercultural dialogue, and promote intercultural dialogue through media presence. In the words of Austria's Ambassador to Bosnia and Herzegovina, his Excellence Martin Pammer, "Balkan Diskurs was designed as a key project of intercultural dialogue" and was "selected because it pursues the remarkable objective of inclusion and intercultural dialogue." Ambassador Pammer presented the award to PCRC at a public ceremony at the Austrian Embassy here in Sarajevo, with Balkan Diskurs youth correspondents, creative collaborators, members of Sarajevo's local and international community, and other stakeholders in attendance.
Balkan Diskurs was established in 2014 to provide a much-needed space, free from censorship, for journalists, artists, activists, and researchers to share their work. Since its inception, we have ensured that there is always room set aside on Balkan Diskurs for young people to tell their stories; stories about their lives, their communities, and the people, things, and events that inspire them. By hosting a platform that allows for youth from across the Western Balkans to share what is important to them, we have amplified young voices that are otherwise silenced in mainstream regional media. Furthermore, we have showcased the benefit of bringing together diverse perspectives; across ethnic, religious, and national lines. Three years later, we have now trained over 50 youth correspondents from across the Western Balkans who collectively, have produced over 200 articles. These young people come from over 30 cities in the region from Belgrade to Sarajevo to Zagreb. We are proud to say that we have been able to bring together this incredible group of youth who are able to share their stories with our 100,000 monthly readers.
In addition to their work with Balkan Diksurs, it has also been incredibly rewarding to see so many of our youth correspondents go on to have successful careers in different aspects of media, journalism, photography, and so on. We have also watched countless friendships be forged across ethnic lines, worldviews broaden, and opinions change.
Receiving the IAA has been especially meaningful to us given the close ties that bind Austria and Bosnia and Herzegovina. Austria's impact in Bosnia throughout history is visible in our architecture and culture, as well as through the educational opportunities it provides for the young people of this country. Austria is, in every way, invested in Bosnia's future. In this ongoing spirit of cooperation between our two countries, the IAA has provided key support for our work as an organization as we continue to foster intercultural dialogue and, ultimately, interethnic understanding. We are truly grateful to have, in a country facing various challenges, such as ethnic division, a dysfunctional government, corruption, and youth unemployment, the support of our Austrian neighbors as we work to make our country see its diversity as a source of prosperity, rather than division.
Balkan Diskurs is made possible by the support of National Endowment for Democracy (NED), Rockefeller Brothers Fund, BMW Group, UNAOC, and Robert Bosch Stiftung.