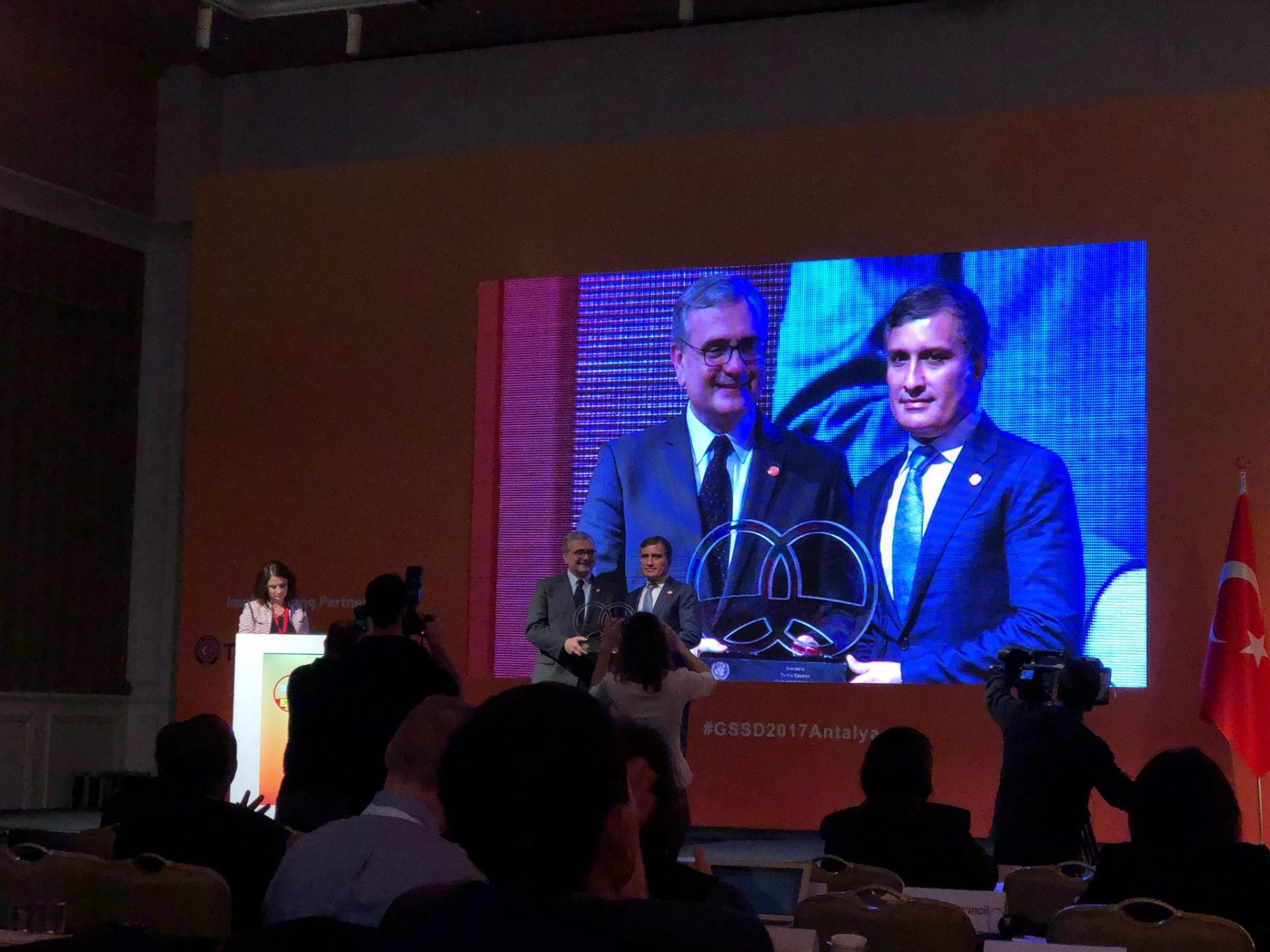 by Eleonora Costa and George Foden
The Global South-South Development Expo (GSSD Expo) is the only Expo offered by the United Nations system solely for the Global South. It provides a powerful platform for all development actors and stakeholders to showcase Southern development solutions, celebrate South-South and triangular cooperation success, share knowledge and lessons learned, explore new avenues for collaboration, and initiate new partnership efforts
(http://www.expo.unsouthsouth.org/2017-antalya/media-centre/).
How can actors from the Global South support each other as they work positive change in their own countries? This was the central thematic question of UNOSSC's recent "South-South Cooperation in the Era of Economic, Social, and Environmental Transformation" Expo, or "GSSD Expo," in which PCRC was honored to participate. The Expo was held in Antalya, Turkey with the aim of strengthening cooperative initiatives and learning from the experience of other Civil Society Organisations (CSOs) in the Global South. With over 120 member states and more than 800 individual participants, the 2017 GSSD Expo made significant strides towards furthering South-South cooperation in regards to positive, sustainable development in the Global South. Participants included government ministers, development agency directors, and international and civil society stakeholders, who utilized the forum to showcase, share, and scale up innovative local solutions to global problems.
This year's expo focused on cooperation amongst Global South countries in their collective implementation of the UN's Sustainable Development Goals through the use of innovative new sciences and technologies. Several important discussions during the forum related to big data's potential to facilitate development and South-South cooperation, and the continued importance of information technology promotion in rural areas, particularly through youth and women's empowerment initiatives. There were presentations and discussions on methods for achieving the UN's sustainable development goals by 2030, including climate change partnerships, health development, and private sector engagement in sustainable development initiatives.
Velma Šarić, PCRC's President and founder, participated in various activities and roundtable discussions, including "Public Service Innovations," "From Delivering Aid to Ending Need: Advancing the 2030 Agenda in Crisis Contexts," "Investing in Youth as the Source of Innovation and Entrepreneurship," "Leveraging the Power of Science, Technology and Innovation for Development Through South-South Cooperation," and "Southern Solutions for Peacebuilding and Sustaining Peace." PCRC shared perspectives from the Western Balkans as the sole regional CSO participating in the cornerstone event, "The role of NGOs and CSOs in Enhancing and Promoting South-South Cooperation: The Road to the High-level United Nations Conference on South-South Cooperation and Beyond.".
In total, the Expo hosted the launch of six publications, three photo exhibits, over 35 institutional partner sessions, and close to 40 plenary/side events all focused around sustainable development cooperation.  Mr. Jorge Chediek, Envoy of the Secretary-General on South-South Cooperation and Director of the UN Office for South-South Cooperation, thanked the attendees for "[Having] shown us what national leadership and ownership of the narrative of South-South development cooperation leading up to BAPA+40 really means". He further acknowledged the importance of the partnerships that were formed during the event. More than 90 institutional and individual partners, including the Post-Conflict Research Center, agreed to cooperate on future initiatives with fellow Global South countries, including their participation in future GSSD events.
PCRC's attendance at the Expo was instrumental in helping us to build partnerships for our youth and women's empowerment initiatives and learn new applications for science and technology in our social media and online media work. It is important as a regional CSO with global reach to be aware of other projects in various contexts around the world, and to engage in enriching dialogues with other important development actors working in the Global South.  To this end, we thank the organizers of this event, UNOSSC, Tika, and Turkic Council and look forward to the productive outcomes of our collective futures. We also want to again thank Turkic Council whose support enabled us to attend the hugely beneficial expo.