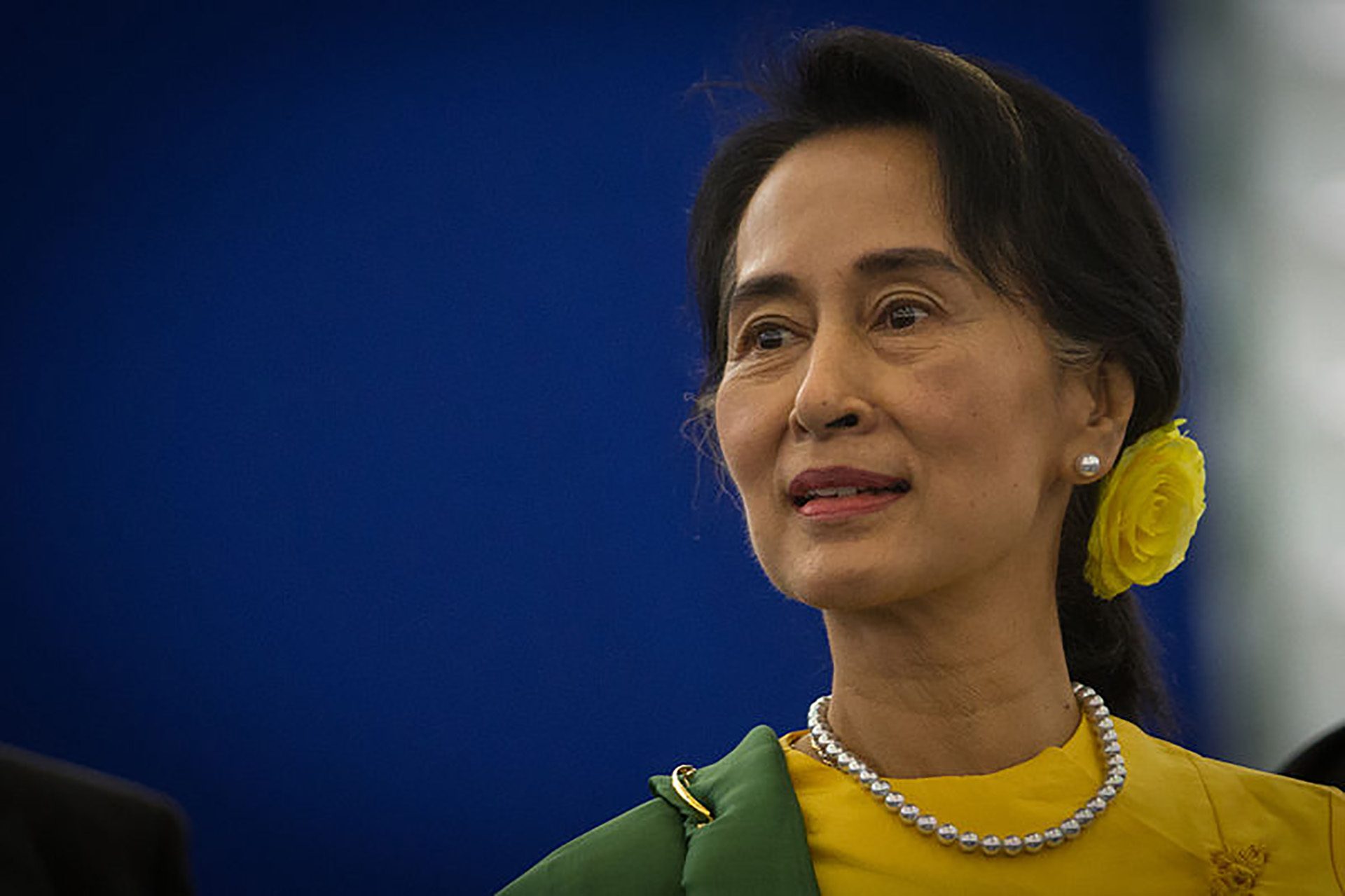 By George Foden
This is the third installment of our four-part series about the current violence being committed against the Rohingya in Myanmar. To learn about the background of the violence, read our first piece entitled "The Rohingya: The World's Most Persecuted Minority." Photo: Aung San Suu Kyi via Wikimedia Commons.
"It is not power that corrupts but fear. Fear of losing power corrupts those who wield it and fear of the scourge of power corrupts those who are subject to it."
So wrote Nobel Laureate Aung San Suu Kyi in her essay Freedom from Fear. As a revolutionary figure in Myanmar since 1988, she was a thorn in the side of Myanmar's military junta, who would eventually sentence her to a total of 15 years of house arrest. Through sheer determination and the rallying of support both in Myanmar and around the world she tackled the military regime head-on, and in 2015 she became de facto leader of Myanmar in democratic elections that promised a bright future for a country that had been stifled by authoritarianism and violence. Whilst she is ineligible for the presidency due to laws imposed by the military and her official title is "state counsellor," she remains the figurehead of the National League for Democracy party and is instrumental in drafting the policies enacted by official party leader Htin Kyaw. Free from the scourge of power, she found herself to be the one wielding it.
Seemingly incorruptible in her principles, Suu Kyi promised to be a leader that could affect real change in Myanmar. However, in early August 2017 the Myanmar military began a "clearing operation" against the long-persecuted Rohingya population of Rakhine State in a move that was described by the UN as "textbook ethnic cleansing," and Aung San Suu Kyi stood by. The global media was particularly shocked by her silence, with many pointing to her Nobel Laureate status as a reason for her to speak out and do something to halt the violence being perpetrated against a disenfranchised group in her home country. Surely she, of all people, could understand their plight?
In this context, it could be considered that in focusing on Suu Kyi the international media has dropped the ball where it matters. The story of a Nobel laureate's fall from grace is certainly a compelling one, but Suu Kyi never wanted to be a symbol of peace. In a 2011 interview with the BBC she stated that "I do not hold to non-violence for moral reasons, but for political and practical reasons." She also surprised Hilary Clinton in the same year by telling her that she wanted to be seen as a politician, not as an icon. In awarding her a peace prize after years of house arrest the West turned her story into a fairytale that was supposed to have a happy ending, with Myanmar moving towards democracy as the military lost their hold over the nation. What is lost in this narrative is the fact that Suu Kyi was always a candidate for a political party that aimed to put the majority Buddhist population first and that has always been notably quiet on the Rohingya, who were discriminated against and persecuted long before this current crackdown. Now that she has found herself in a position of power, it would appear that self-preservation has taken priority over the principles of her once lofty, Nobel-worthy rhetoric.
Suu Kyi is all too aware of the pressure put on her by her fellow party leaders, who supported her throughout her house arrest and maintained the relevance of her National League for Democracy Party by running on a campaign that was to put the needs of the Buddhist majority first. According to Ronan Lee, a researcher based at the University of Queensland who has extensively studied the political causes of the current Rohingya crisis, Suu Kyi likely feels indebted to the party leaders who supported her throughout her time in exile and also is politically savvy enough to see that there is no political gain to be had from condemning a military that she has no real power over in support of a minority group that is largely distrusted and disliked within the country.
Suu Kyi's ability to influence the military is limited because the country's constitution ensures that the armed forces remain independent of the civilian government. This is particularly important considering that the army controls the police, security services, prisons, border and most of the civil service, and also appoints 25 percent of the members of parliament. The military commander-in-chief, Min Aung Hlaing, therefore effectively has a veto over all bills that pass through government and is also basically unaccountable to Suu Kyi or her President.
What this amounts to is that whilst the Rohingya continue to flee and to fall victim to state-sponsored violence, the international media has focused much of its attention on a woman who lacks both the capacity and the will to stop the violence. In a damning article written for The Huffington Post, Director of Burma Campaign UK Mark Farmaner claims that the overwhelming focus placed on the story of Aung San Suu Kyi has distracted from the real perpetrator of these crimes against the Rohingya. Min Aung Hlaing is the orchestrator of the 'textbook ethnic cleansing' currently taking place in Rakhine state.
Unlike General Mladic in Bosnia, who was well known globally at the time of his crimes, even conducting unapologetic interviews with international media and loudly challenging his political superiors on several occasions, Min Aung Hlaing prefers to do his business in the shadows. He has succeeded in cultivating relationships with other military and political leaders globally, securing training for his troops from the British government, and taking regular trips to China, Japan and India to be wined and dined by diplomats. Despite his brutal crackdown on the Rohingya taking place over many years, Min Aung Hlaing is far from a pariah on the world stage. And the excessive focus on the civilian leader of the government suits him just fine.
Aung San Suu Kyi has proven a disappointment to the global community. Journalists, diplomats, and fellow Nobel laureates alike have condemned her inaction over a rapidly developing violent repression of the stateless Rohingya, but in reality there is little she is able or even willing to do. She never was the icon that people had assumed she was, and she does not hold the necessary power to prevent the ethnic cleansing in Rakhine from continuing.  In fact, any efforts at standing up for the rights of the Rohingya would likely result in a major backlash from within her own party, and would prompt a response from the still dominant military arm of the government. It would seem that fear of losing the power she has been granted after years of struggle is preventing her from doing anything to help the now over 1 million Rohingya who have been displaced by Min Aung Hlaing's violent crackdown. It is time for the international community to accept that Suu Kyi will not be the hero we were hoping she would be, that she never truly was and never will be an icon for peace, and to focus our attention on the orchestrators of the violence against the Rohingya if we want to see an end to this crisis.
*Views expressed in this story reflect those of the author and not an organizational stance by PCRC.*