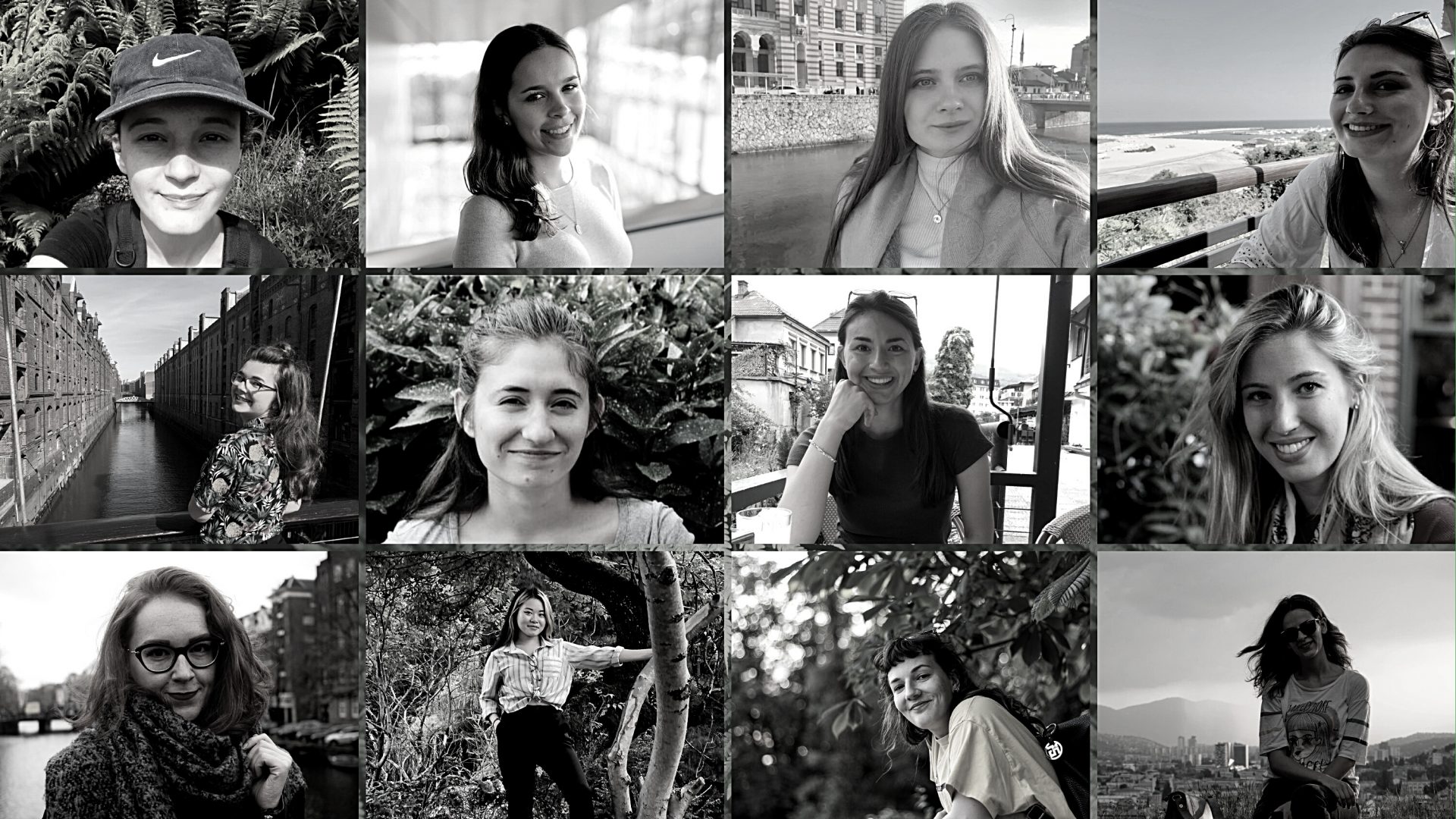 This summer, PCRC conducted its first virtual internship due to the COVID-19 pandemic. Twelve young women participated in a productive summer program from all over the world.
The interns came together on Zoom, Skype, and WhatsApp from places like New York, Chicago, Riga, London, Zagreb, and Sarajevo. While some participants from the region were able to travel to Sarajevo to have an in-person component, most of the interns' work was conducted remotely.
Virtual work seemed daunting at first, but Laura Petković was relieved after the first Zoom meeting.
"I didn't have high expectations from this internship due to the circumstances we all found ourselves in," she said. "But I was wrong. The whole internship was so carefully structured and organized that I am completely sure that I experienced everything as I would if I went to Bosnia and Herzegovina in person."
"I had a wonderful experience as a PCRC intern," said Alexandra Karppi, a current graduate student at Columbia University in New York.
"This was the first job I have had in which there were very clear instructions given for each task beforehand. I enjoyed having the opportunity to work with many other interns, too. The variety of projects (writing, researching, editing, social media, etc.) made this a useful experience for me, and I learned a lot. I appreciated that Tatjana and Velma felt strongly about us building our own 'portfolios' that will stay with us after the internship ends."
The interns worked extensively on commemoration events for the 25th anniversary of the Srebrenica Genocide, including reporting from online conferences, such as the international conference ''Genocide denial and triumphalism'' and creating graphics and social media campaigns to promote various events. Interns worked virtually and in person in Srebrenica to promote and participate in ŠTO TE NEMA a participatory, nomadic monument during which thousands of coffees are made and poured into traditional cups to represent the number of lives lost during the Genocide.
"I felt incredibly privileged and humbled to be able to be in Srebrenica and contribute to honoring the victims and their families," said Hunadda Sabbagh. "It was a very special experience."
Valentina Grganović, an intern from Central Bosnia region, was able to work in person on PCRC's summer project, Srebrenica Youth Camp. "The camp brought together an inspiring group of young people from all over Bosnia," she said. "We got to listen to extraordinary lectures from scholars and journalists important in the sphere of post-conflict societies. It was an incredible opportunity."
Working at PCRC also exposed the interns to new research methods and encouraged interns to think critically and work independently.
"The internship at PCRC was a great experience, both academically as well as personally," said Gina Wiedemann, a recent graduate from the University of Erfurt and the National Chengchi University. "I learned about different approaches to post-conflict related work and was able to get out of my cocoon and try new things such as social media work, interviewing people for articles and so on."
For Bosnian diaspora, working for an organization in Sarajevo engenders a deep and special connection. "It was particularly important on a personal level because as a Bosnian living abroad, I sometimes feel detached from my home place," said Adna Čamdžić, a current graduate student at the University of Turin. "Thanks to the PCRC experience I got the opportunity to reconnect with Bosnia, to be actively present there, even if it's just virtually."
"I think the saddest part of the virtual internship is not getting to meet everyone," said Gina Wiedemann. "I hope we can have a PCRC summer 2020 alumnae intern meet-up when we are able to travel to Sarajevo, because I really want to meet all of you in person!"
Here's to hoping that we can explore Sarajevo together someday soon,
---
About the author: 
Josephine Mintel holds a BA in Neuroscience from Johns Hopkins University and an MS in Neurobiology from the University of Göttingen, Germany. She also served in the U.S. Peace Corps in Kosovo and is currently a graduate student at the University of Chicago studying International Relations.