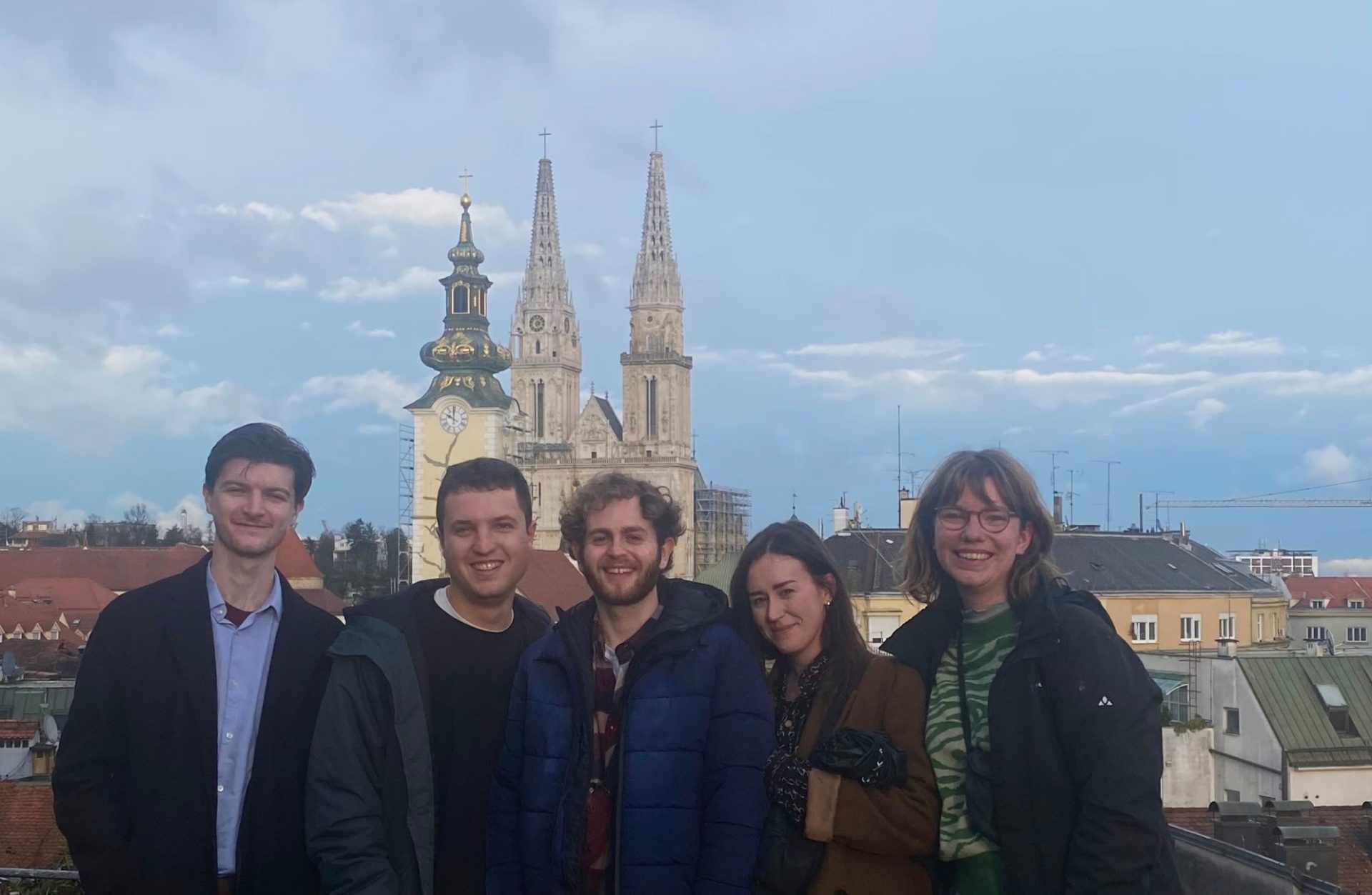 Authors: Molly Munro and Sergi Cuadra Dominguez
This spring in Sarajevo, the five of us learned so much about post-conflict peace, Sarajevo, Bosnia-Herzegovina, and the wonderful people who live here.
The first highlight of the internship was spending our first week together at the Peace Festival '23 in the adorable Ethno Village Čardaci Vitez, where we ate until we were sick and laughed until we cried. Here we were able to meet 40 youth from around Bosnia and join in on conversations about addressing the past and moving forward to create a more unified country. Some of the connections we made remain today, which has deeply enriched our experience here and allowed us to meet even more youth in Bosnia
The Peace Festival, our visit to the International Commission on Missing Persons (ICMP), which was not only interesting but highlighted the amazing and difficult work people have done and continue to do in Bosnia and other post-conflict areas to bring closure to families who lost their loved ones, and the Court of Bosnia-Herzegovina gave us the invaluable opportunity to meet key decision-makers in international organizations, such as the OSCE, the EU, and the different UN agencies and embassies from all over the world, as well as non-governmental organizations of all kinds. Although Sarajevo is not a very big city, the entire international community is here in one way or another.
Sarajevo itself has so much to offer. First of all, Bosnian food is an amazing way to connect with one another and the city as a whole. Some of us may have gotten too comfortable eating Ćevapi, burek, and baklava, finished off, of course, with rich Bosnian coffee or rakija. There is no doubt we will be carrying Sarajevo on our waists when we return home. We also made it a special Friday ritual to visit the restaurant in the PCRC building to share traditional and delicious food, keeping us connected and full.
Another wonderful thing about doing the internship in Sarajevo is that although we are kept busy, there is a high degree of autonomy and flexibility, allowing us to travel the region. Do not miss the opportunity to travel around the country, as each region has something unique to offer. As special and dynamic as Sarajevo is, don not hesitate to take the first train to Mostar (one of the most spectacular rail trails we've ever been on) or hire a car—it's cheap and the roads are safe. Be sure to visit Tito's Bunker in mountainous Konjic, traditional Travnik, where you can see all of Bosnia's historical events, as well as medieval Jajce or vibrant Banja Luka. Or, drive to Zagreb for a couple days and take a short and unexpected trip to the beautiful Slovenia!
On the weekends we spent in the city, there was a lot to do to learn more about life here, such as walking tours and hiking through waterfalls. Sarajevo itself is very safe, affordable, accessible by bus and on foot, and is beautiful rain or shine. People have been warm, welcoming, and super helpful with connecting us and answering every single question we have with a smile on their face. Even though the cannon blasts can be a little frightening, it was such a cool experience to be in Sarajevo during Ramadan, Catholic Easter, and Orthodox Easter all at the same time.
The main lessons we learned during our time with PCRC are that things are always more complex than they first seem, to take advantage of the knowledge and connections PCRC has, and to make the most of your time here because it goes by fast. Explore the country, learn as much as you can, listen as much as you can, and stay open to different opinions. Talk to all kinds of people whenever you can, and make sure not to prejudge because each and every person has their own unique story and experience of Bosnia and Herzegovina.
So good luck to all interns after us. You will not be disappointed in all the PCRC and Bosnia-Herzegovina have to offer!