Wartime Sweets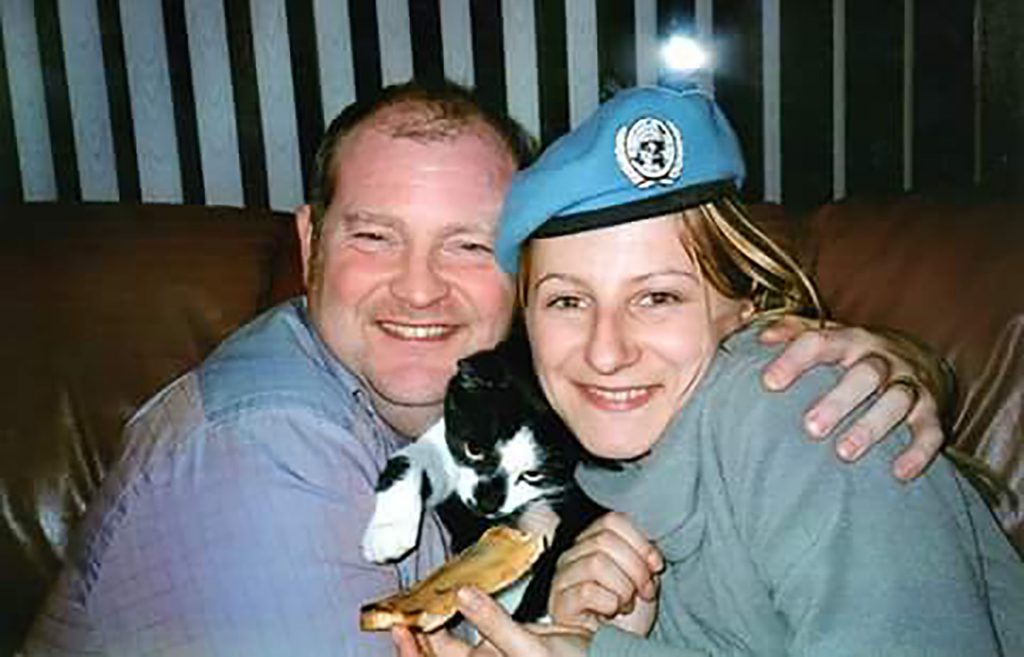 Honorable Mention (Special Entry)
That is how on one March morning in 1993, fates intertwined to fuse the threads of a friendship that would defy all differences and borders. It was on that morning that I met a man who became my inspiration and my role model in life.
By: Đuldina Kurtović (34), Kladanj
---

Jed and Đuldina (2003, Northern Ireland)
Whistling missiles and damp shelters were commonplace to me in those days. Wherever you turned you were confronted by the fear in the eyes or others and frantic looks, but also by the will to live, especially for the youngest ones. Children were children, running around in the streets, between the houses, and in the fields in search of abandoned raspberry and strawberry plants. Sometimes they sprinted after convoys, especially those with the letters "UN" (United Nations) because they had a source of treats sweeter than raspberries and strawberries. In their hands, they had chocolate, and their good will determined the children's happiness. That is how on one March morning in 1993, fates intertwined to fuse the threads of a friendship that would defy all differences and borders. It was on that morning that I met a man who became my inspiration and my role model in life.
My friends and I spent the days of war in shelters and, as soon as it got dark, we would meet in the neighborhood and play a game called "dark people." Even today, the rules of that game remain unclear to me. During the daytime, we would go out only when necessary. And sweets were a necessity to us. Everything would happen as we ran next to the convoys; we would seize the chocolates, some of which we'd never tried before. So new, and much tastier.
One snowy morning I returned with my friend from the maktab (elementary school). It didn't take long for us to notice the two UN transporters next to my house. Even less time was needed for us and other children from the neighborhood to climb up on to the transporter. I felt as though we'd found the greatest treasure, and we didn't even think of climbing down until we got some sweets.
Something was broken on this transporter, so two soldiers were trying to solve the issue. We introduced ourselves to them. Their names were Jed and Ian. They said where they were from a few times, but there was a misunderstanding. It sounded like they said England, so we went on assuming they were from England. We later found out that they were actually from Northern Ireland.
The soldiers gave us a rucksack full of candy. What a joy and delight that was for us! It was a great feeling when that treasure made it into our hands. I remember in that moment that I decided to ask for something else, a kilogram of sugar, because my mother wanted to make some cakes. I quickly took the sugar to my mother and, as a gesture of her gratitude, she made tea and gurabija (short-bread type biscuits) for Jed and Ian. In the beginning they were reluctant, but they later accepted the gift. Jed promised to return the next day.
The next morning, I met up with the other kids in the neighborhood. Even now when I close my eyes, I can hear the sound of transporter 14A and the excited screams of the children. They didn't lie to us; they came back. For the next few months Jed would return almost every day and bring us candy and toys. During that time, we also learned a little English, like how to say hello and how to introduce ourselves. An English phrase I still cherish to this day is "see you soon." We did not play during the night anymore. Instead, we ran through the neighborhood in the early mornings and waited for Jed, sometimes for hours on end.

Pictured here are the children from the neighborhood with two UN soldiers. It's just one of those moments that made you feel happy and content. They even allowed us the honor of wearing their blue berets, which symbolized peace. (1993, Kladanj)
Those foreigners with the blue berets on their heads did not bring about death, but joy. The light of their friendship was shining upon us and the "dark people" disappeared. Sometimes, we children and the UNPROFOR soldiers would even run for cover together. Jed was a man who always kept us smiling. He enjoyed eating sirnica (cheese pie), and something I most remember about him is how he would always tell us that peace would come to our country and that we must continue to be hopeful.
The time eventually came when Jed had to leave. We were sorry to see our light leave us to go warm other places, but Jed sent us packages of candy via convoys a few more times. We even became pen pals. I remember the blue envelopes I would give to unknown soldiers in the hopes that Jed would receive them. A period came when the letters stopped arriving. I was very sad, but that sentence "see you soon," gave me hope that I would one day again meet my savior. After five years, that day did, in fact, come with the arrival of a letter from Jed. Many letters followed from 1998 to 2003. We did not allow our friendship to come to an end. Jed invited me to Northern Ireland to meet his wife and two children and, after ten years had passed, I went there.
The man who followed his humanity, who showed me what it means to be human, to help, and to extend the arm of friendship, the person I call the savior of my childhood, is more than worthy of my story about him. He spoke a different language, bore a different name, was a different religion, but he was, above all, a man who believed in peace and friendship. Nurturing these values gives true meaning to our lives.